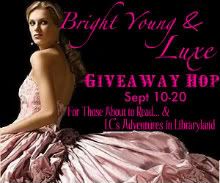 Stop by each blog to enter the different Bright, Young, & Luxe giveaways. On Gilbert & Gomez we are going to have
two winners
:
1st Prize: Vixen by Jillian Larkin
2nd Prize: The FitzOsbornes in Exile by Michelle Copper
To enter this giveaway, click on the form and fill out the requested information. Winners will be chosen by Random.org and posted on the blog.
Giveaway from SEPTEMBER 10 - SEPTEMBER 20.
And check out other Bright, Young, & Luxe books and authors!
Anna Godbersen:
Jillian Larkin:
Michelle Cooper:
The FitzOsbornes in Exile
Thank you for stopping by! :)